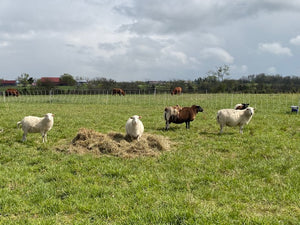 We have a couple Whole and Half Lamb shares available.  Below is a breakdown of what to expect for a Whole lamb share.
Shoulder Roasts: ~8lbs
Rib Chops: ~4 lbs
Loin Chops: ~4 lbs
Leg of Lamb Roast: 2 roasts total ~6lbs
Lamb shanks: 4 shanks ~4lbs
Ground Lamb: ~10lbs
Total: ~36lbs
We charge a flat fee of $500 for a Whole Lamb share and $250 for a Half Lamb share.  This includes processing.  Purchasing a lamb this way saves you 15% off our retail price for the same cuts.  A $100 deposit secures your spot for a share.